Bob Garrett offers a variety of electrical and generator services throughout Roanoke, Va. Our specialty is generators but the staff is well versed in many areas including electrical work. Quality is the hallmark of our company's work. Bob Garrett Services has been in business for the last 18 years and consistently offers first rate residential and commercial services.
We offer quality workmanship and our labor is guaranteed.
BOB GARRETT SERVICES FEATURED ON WFXR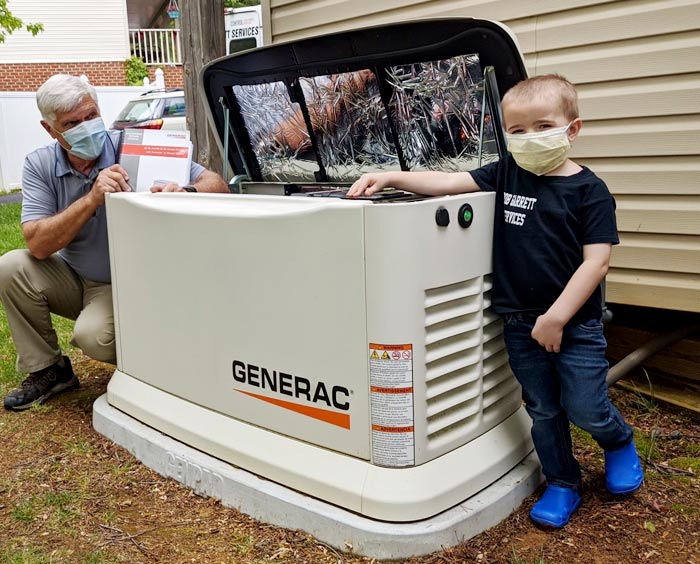 HAPPY CUSTOMERS MEANS LOYAL CUSTOMERS
Our staff is honest, personable and clean cut. We are a licensed Class A contractor with the state of VA, insured and have excellent references.
Nice team and very professional ! Plan on getting another for my new brick house
The installation of our Generac generator was done in a very professional, timely, smooth, and excellent way. Bob Garrett and team did an absolutely fabulous job throughout the entire process. We loved the service we were provided and would definitely recommend him to others. Keep up the good work and best wishes.
Gave complete description of the job he would do. Gave accurate time estimate to complete and was punctual. Final price matched his quote. Took time to answer my questions and review future maintenance requirements. Have already recommended the dealer to friends and neighbors!
He did really well and I would recommend him. He is a good communicator and he does what he says he is going to do when he says he is going to do it. he had efficient people and he did the work quickly: there wasn't any messing arround.
I'm so glad Bob is on my team.
Bob and his team did a great job. We are happy with the generator.
From the time we initially spoke to Bob about a generator to the time it was installed was less than 3 weeks. The installation took 3 days. All our questions were answered and if he wasn't 100% sure about some of our vague questions he called Generac to get an answer. I would not hesitate to use Bob Garrett Services again.
We have been delighted with the professionalism and competence of everyone in the Bob Garrett Team. Thanks guys
You can use me anytime as a reference. I would be happy to tell anyone what great quality of work Bob and his team do.
Bob and his associate (Bobbie) were great. They were very professional and knowledgeable and maintained a friendly manner at all times. Bob kept us informed on what he was doing at all times. This is a project I started a few years ago and had them come in to complete it. They finished up and tested it within three days and were able to have the county inspectors sign off on the install the following morning. They also cleaned up everything after they finished! I have already recommend Bob to one of our neighbors for a install . Good Work
Bob Garrett services is outstanding. They have provided excellent guidance, advice and technical competence in servicing my needs. We are senior citizens and must have continued electrical service-Bob and his team have assured this outcome. The are the BEST!!! Would recommend them highly—You should be proud to have them as dealers
They were very clear from the initial site visit through the installation process about costs, connection options, operations of the unit, and what to expect for maintenance. The generator has worked exactly as promised.
In spite of the curve balls I sent their way, they were able to handle all my requests.
Crew worked well and answered all my questions. They had everything installed and working considerably sooner than I thought they could.
I am so happy you picked up on the problem of the vanity and asking if there was tile under it.
Bob Garrett and his team are professional, friendly and helpful. They did a great job, installing our generator, explaining everything, and answered a lot of my questions. They kept the site clean and uncluttered too.
Mom and I are very pleased with BGS. Very professional and courteous. Will recommend you highly.
For anyone who has not used Bob's service you don't know what you're missing. Prompt, affordable, courteous, knowledgeable, accommodating… and that's only the beginning. My family and I have used Bob's services for several years and have never been disappointed. Call today for any needs and Bob will step up.
Bob isn't just about a quick sale. He spent all the time we wanted/ needed to discuss the size we needed,best location for the unit, and of course pricing. He's very professional and personable too. He & his crew get together and strategize the best way(s) to do each step of the installation. They're always on the same page. No hiccups. His crew (Bruce, Greg & Ian), were professional , worked non-stop, cleaned up the area before they left the site, etc. I would be pleased to recommend Bob Garrett Services, LLC to anyone.
I am very pleased with the installation of my Generac by Bob Garrett Services. Bob and his staff were here on time throughout the installation, were extremely professional both in their attitude and their workmanship, and left my home clean and neat. Highly recommended!
Get Financing Now!
Ready to get your project started, but short on cash?
Take advantage of financing options available through Synchrony.
Learn more about details even apply online!
Expand your purchasing power with Promotional Financing through Synchrony.
Synchrony is one of the nation's premier consumer financial services companies. Our roots in consumer finance trace back to 1932, and today we are the largest provider of private label credit cards in the United States based on purchase volume and receivables.
A simple application process, and fast credit decisions
Unsecured, revolving credit lines
Promotional financing options1
Convenient monthly payment options
Online account management
1Subject to credit approval. Minimum monthly payments required. See store for details.
For all promotions: Qualifying purchase must be made with your Home Design credit card issued by Synchrony Bank and a $29 account activation fee will apply and be charged at the time first purchase posts to account. For new accounts: Purchase APR is 26.99%; Minimum Monthly Interest Charge is $2. Existing cardholders should see their credit card agreement for their applicable terms. Subject to credit approval.